HOME DASHBOARD
Log into the AIS website and land at the main dashboard. Located here are charts that provide a fast and precise insight to important data. Included on this page is a Key Performance Indicator pie chart, Average Survey Results grid, Overall Use Again pie chart, Use Company Again by location, and the Question Breakdown bar graph.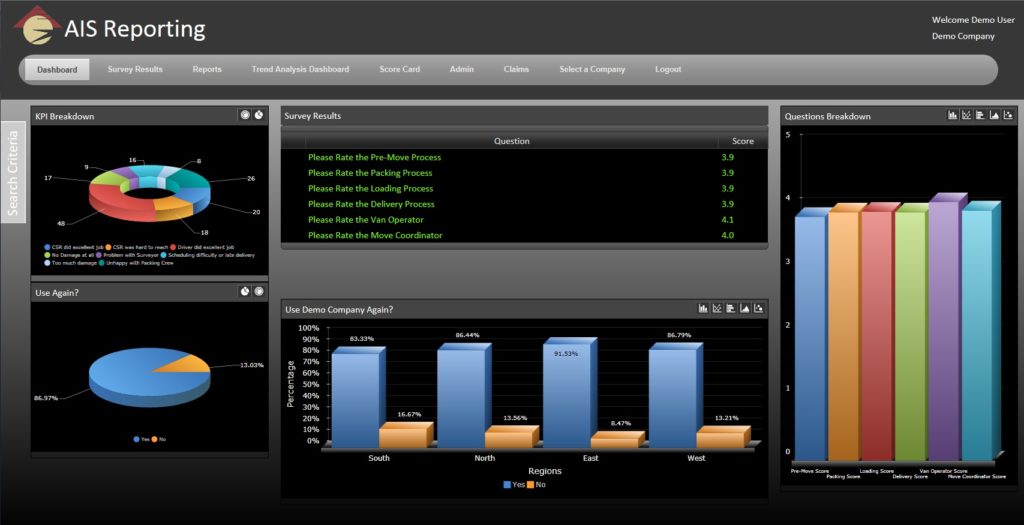 CLAIMS DASHBOARD
Everyone knows that claim expenses come off of the bottom line, and this is a tool to help identify exactly where those expenses are coming from. Many companies have the claim dollar expense information on hand but no good solution for running reports on that data. With our Claims Dashboard you can work on lowering claims expenses and increasing profits.
TREND ANALYSIS DASHBOARD
Being able to view data over a specified period of time gives the ability to quickly understand how your company is doing during that time. Below those graphs is our Driver Summary. Some clients use this tool as an incentive based system for bonuses or for assigning preferred work to the drivers.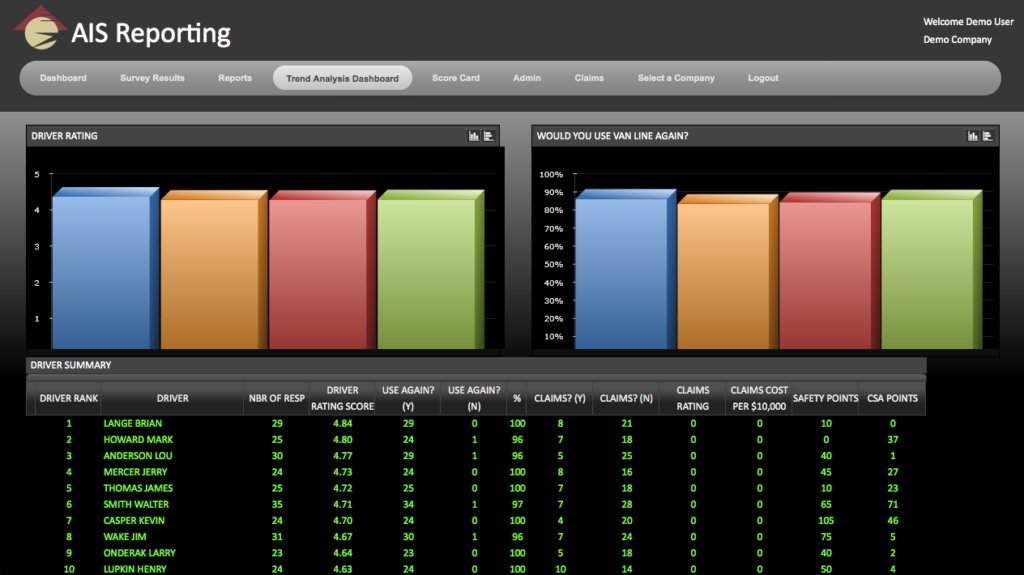 SURVEY RESULTS
All of the individual surveys that populate all charts and reports are located here. They all can be organized by date, column heading, and searched by keyword or number. Also, a deficient survey result page shows all surveys that fall below your predetermined standard.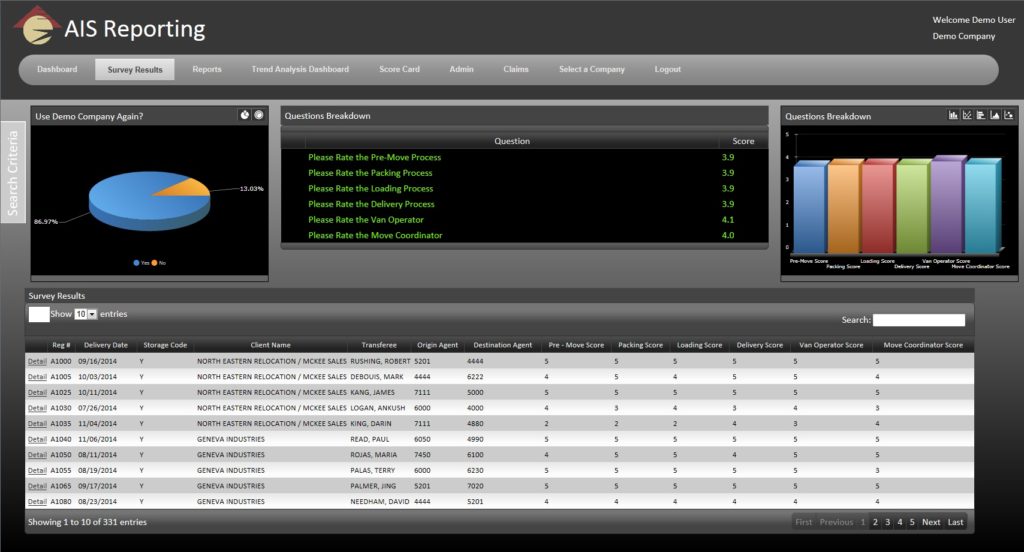 REPORTS
AIS provides six standard reports that include Quality Performance Summaries and by Detail for drivers, customer service representatives, and client. Our Advanced Reporting tool allows the user to run and save customized reports from any provided data element.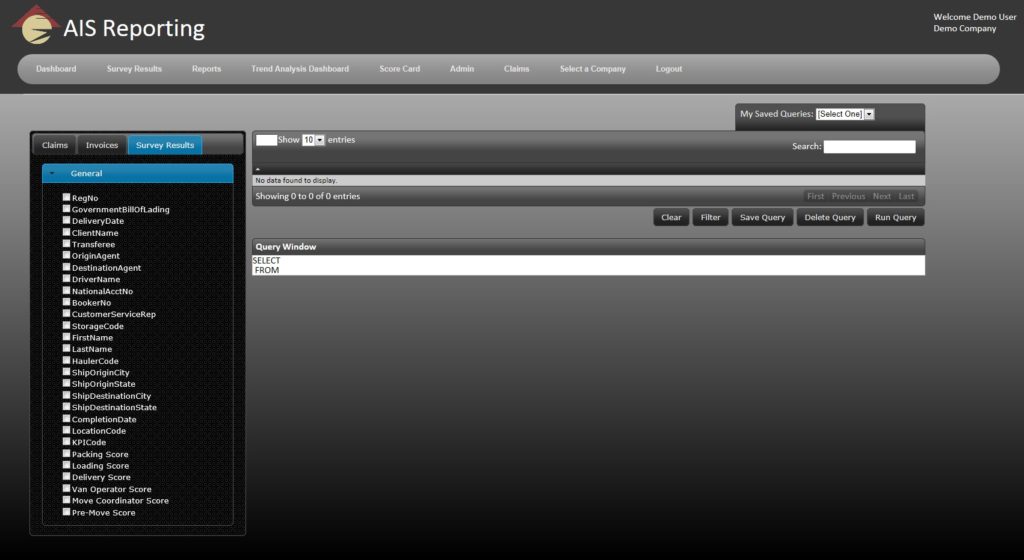 SCORECARDS
Being able to identify how well an individual is performing allows companies to reward or help those staff members improve in areas where it may be needed. Our scorecards that include (but are not limited to) drivers, customer service representatives, bookers, haulers, or individual agents.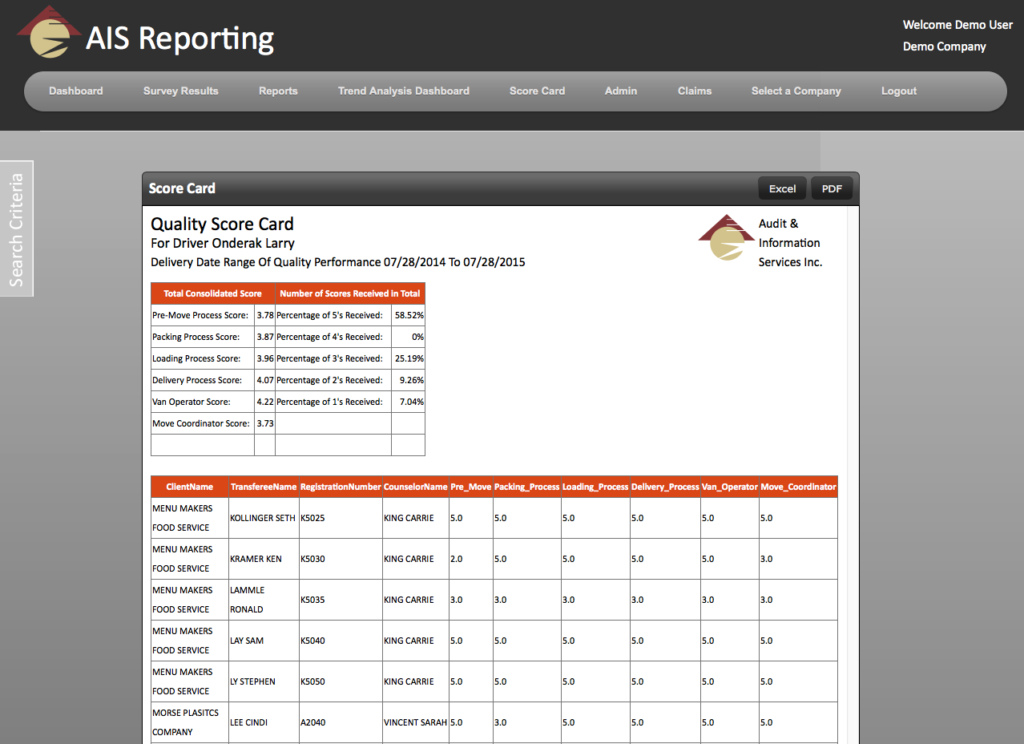 CLAIMS
AIS provides a claim management product that lends itself to any sized company. Easy to use functions like a free form comment sections, automatic check requests, and an image center help to make claim management simple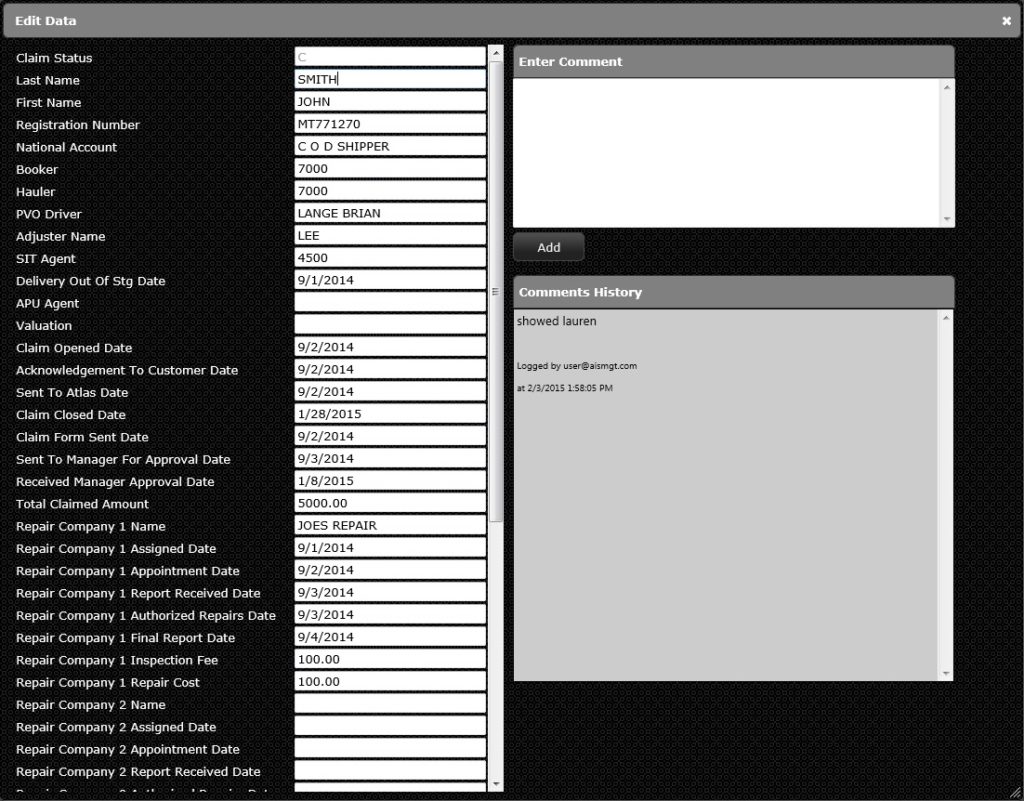 CONSOLIDATED SITE
Whether your company works with national accounts, COD moves, a national van line, or the government, everyone uses their own survey format. No matter the different rating scales AIS has the ability to map those surveys and put them into one place to give a full picture of your companies quality performance.

---
MORE SERVICES
AIS provides a wide scope of services that are expanding each day. Some of the custom projects that have been completed
Apps developed for iPads and other mobile devices
Custom reporting tools for data previously unreachable from move management systems
Employee payroll management system
At Natage Gemstones, we believe that luxury and elegance should be accessible to everyone. That's why we're always on the lookout for the best products and services to offer our clients. At Excelsior Casino, you'll find just that – an exceptional gaming experience that's sure to meet all of your entertainment needs. Whether you're a seasoned gambler or simply looking for a night out with friends, Excelsior Casino has it all. With a wide variety of games and amenities, including fine dining and live performances, there's never a dull moment at this luxurious resort. So why wait? Visit https://excelsiorcasino.com/astropay-casinos/ today and experience the ultimate in entertainment and relaxation.
Acesse o MundoFut para assistir aos jogos do Flamengo, Palmeiras, Corinthians e outros grandes times brasileiros gratuitamente e com alta qualidade. mundo fut Acompanhe os principais campeonatos de futebol do Brasil e da América do Sul, como a Série A, a Libertadores e a Sul-Americana.